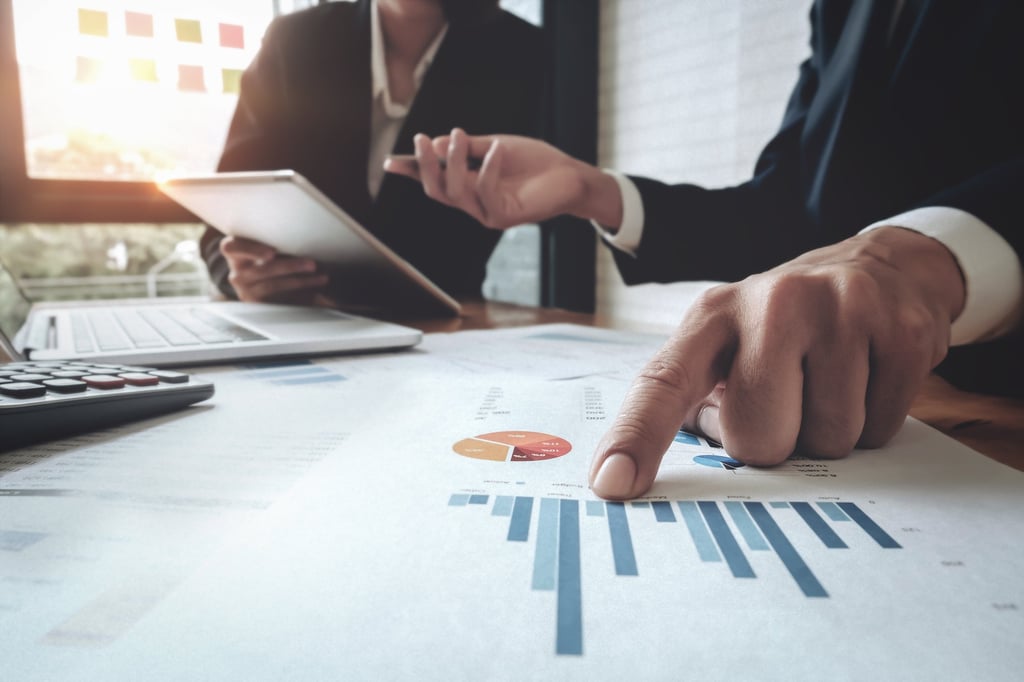 Since the beginning of November 2020, we've seen the outperformance of small cap companies in relation to larger corporations by nearly eight percentage points. Spurred initially by the announcement of the COVID-19 vaccination and distribution plans across the country, momentum continued through the end of the year.

Now three months into this period of small cap momentum, we should look back at other bull runs to provide a sense of scale. Back in July 2000 we saw small cap companies outperform large for a 28-month cycle ending November 2003. Then, coming out of the great financial crisis in 2008, small caps were the first to recover, starting to outperform in December 2008, for a 25-month cycle, ending December 2010. During that period, the rest of the market didn't bottom out until March 2009.
Until now, small caps haven't outperformed, but this history shows us that small caps tend to lead the market in recovery.
S&P Small Cap vs TSX Large Cap Index Historical Performance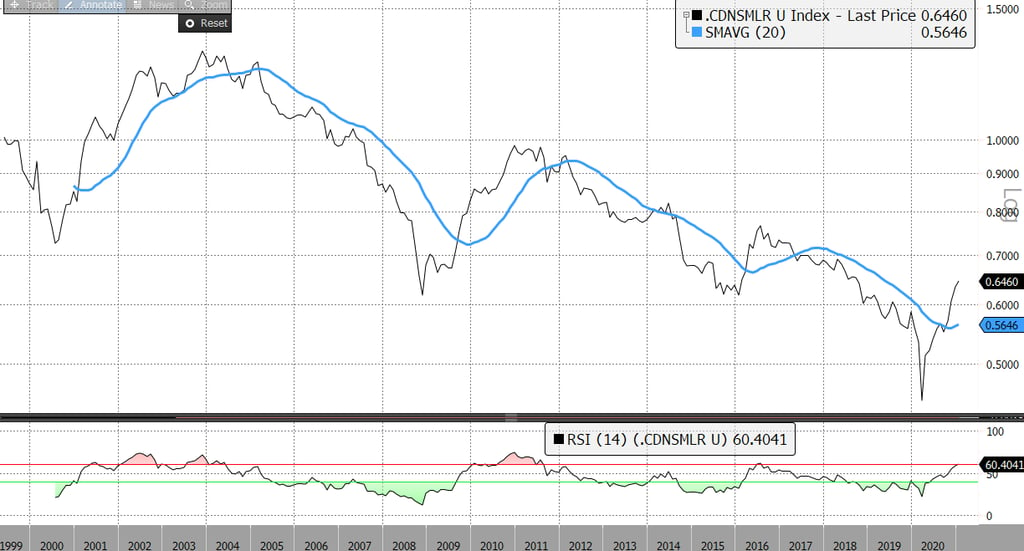 Source: Morningstar Research Inc., Bloomberg as at January 31, 2021. The black lines represent the TSX Small Cap Index performance in relation to the TSX Large Cap Index, while the blue represents the 20-day moving average of that index.
According to Jennifer Law, Portfolio Manager, Empire Life Small Cap GIF, this may be the start of something but whether this outperformance can be sustained will be driven by three key factors:


1. Global growth will need to maintain an upward trend.
As the world continues its recovery from the effects of COVID-19 and investor confidence increases, we expect to see markets globally begin to trend upwards with small caps leading the charge.

2. A successful distribution of the vaccine to key population areas around the world.
Projections show that various countries and regions are doing an effective job of distributing and administering the vaccine.

3. Greater outperformance of emerging markets to drive global economic recovery.
Emerging markets are the most susceptible to supply chain disruptions and global economic slowdowns. More sustained outperformance from emerging markets may be a good precursor to an overall global economic recovery and further induce global investor confidence.
Emerging Market and Developing Economies – Growth Projections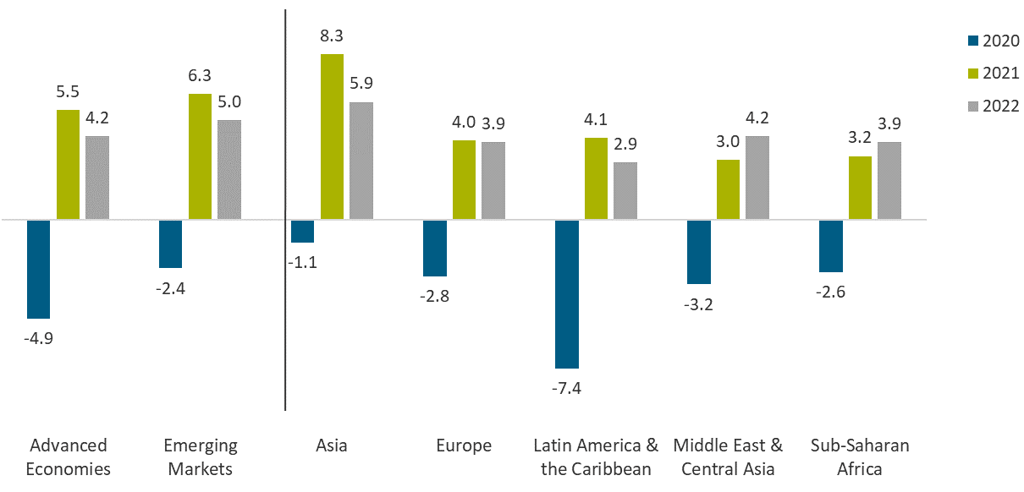 Source: IMF, 2021 Outlook Report
Keeping an eye on these factors will help investors have greater confidence in small caps and their potential to provide enhanced returns through 2021.
---
Segregated Fund policies are issued by The Empire Life Insurance Company.
This article includes forward-looking information that is based on the opinions and views of Empire Life Investments Inc. as of the date stated and is subject to change without notice. This information should not be considered a recommendation to buy or sell nor should they be relied upon as investment, tax or legal advice. Information contained in this report has been obtained from third party sources believed to be reliable, but accuracy cannot be guaranteed. Empire Life Investments Inc. and its affiliates do not warrant or make any representations regarding the use or the results of the information contained herein in terms of its correctness, accuracy, timeliness, reliability, or otherwise, and do not accept any responsibility for any loss or damage that results from its use.
A description of the key features of the individual variable insurance contract is contained in the Information Folder for the product being considered. Any amount that is allocated to a Segregated Fund is invested at the risk of the contract owner and may increase or decrease in value. Please read the information folder, contract and fund facts before investing. Performance histories are not indicative of future performance.
Empire Life Investments Inc., a wholly owned-subsidiary of The Empire Life Insurance Company, is the Manager of Empire Life Mutual Funds and the Portfolio Manager of Empire Life Segregated Funds. The units of the Funds are available only in those jurisdictions where they may be lawfully offered for sale and therein only by persons permitted to sell such units. Commissions, trailing commissions, management fees and expenses all may be associated with mutual fund and segregated fund investments. Mutual funds are not guaranteed, their values change frequently and past performance may not be repeated.
March 2021