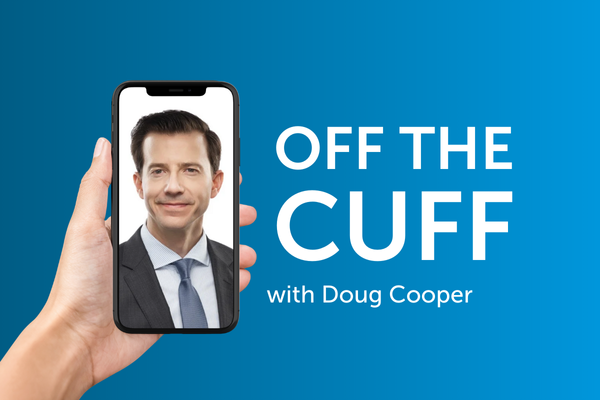 Doug Cooper discusses why Intact Financial meets his investment criteria in this Off the Cuff video.
Transcript:
Greetings – my name is Doug Cooper Senior Portfolio Manager at Empire Life Investments.
The purpose of this video is to highlight Intact Financial which has been a successful investment across Empire's Canadian Large cap mandates for us over the past 1.5yrs or so.
First, I want to talk about what we like about Intact Financial's business; and second, I want to touch on what gave us the conviction to buy Intact's stock when investor sentiment was extremely negative.
So why do we like Intact Financial's business?
Intact Financial has a commanding market share of approximately 16% versus its next biggest competitor at approximately 10% share.
As a result, it benefits from a scale advantage on the underwriting and distribution side which has allowed the business to consistently generate a return on equity above its peers.
The company is run by a strong management team including the CEO, Charles Brindamour, who has produced an outstanding track record of effective capital allocation and growth over his ten plus years as CEO.
Armed with what we view as a sustainable scale advantage in a relatively fragmented P&C insurance industry, Intact Financial has attractive – and highly visible - growth prospects in Canada.
The bottom line is that Intact Financial possesses all the high quality attributes we look for in a business. It has a strong competitive positioning, a solid management team, attractive growth prospects, and a strong balance sheet.
However, anybody can invest in a high quality company. The key is to invest in a high quality business that trades at an attractive valuation.
Let me explain.
Negative investor sentiment started to build towards Intact Financial at the end of 2017 due to rapidly increasing auto repair costs as a result of sensors and technology becoming a larger part of cars.
Consequently, Intact Financial's valuation contracted substantially in the first half of 2018 which resulted in the stock significantly underperforming over this time period
Our longer term view and deep understanding of Intact Financial's business gave us the conviction to aggressively buy Intact in July of 2018 when negative sentiment peaked and when the stock's valuation had troughed at about 13x price to earnings.
We understood that Intact Financial had a number of levers to pull including price increases and optimizing the claims process which would better position the business longer term. And we had high confidence in management's ability to execute.
In the back half of 2018 Intact reported better than expected profitability and the market started to anticipate further improvements in margins and sales growth which management delivered on. This resulted in valuation expanding to nearly 18x P/E today and strong share price appreciation of nearly 50% since we bought Intact in July of 2018.
Taking a different view than the market, fueled by a deep understanding of a business, as well as a longer term view, and a disciplined approach to valuation is an integral part of Empire Life's investment style. Intact Financial is a great example of our investment approach in action and how it translates into adding value for our customers.
Thank you for listening .
---
This document includes forward-looking information based on the opinions and views of Empire Life Investments Inc. as of the date published and is subject to change without notice. The information contained herein is for general informational purposes only, and should not be considered a recommendation to buy or sell any security, nor should it be relied upon as investment, tax, or legal advice. Empire Life Investments Inc. and its affiliates assume no responsibility for any reliance on, misuse of, or omission of any information contained in this video, and do not warrant or make any representations regarding the use or the results of the information contained herein in terms of its correctness, accuracy, timeliness, reliability, or otherwise, and do not accept any responsibility for any loss or damage that results from its use. Please seek professional advice before making any investment decisions.

Empire Life Investments Inc., a wholly owned-subsidiary of The Empire Life Insurance Company, is the Manager of Empire Life Mutual Funds and the Portfolio Manager of Empire Life Segregated Funds issued by The Empire Life Insurance Company.


November 12, 2019