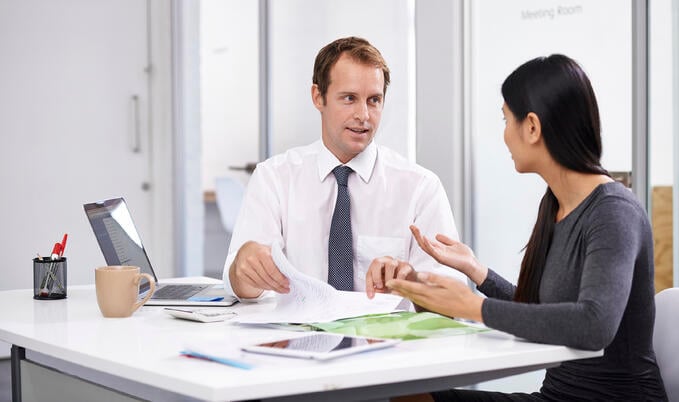 Having life insurance as part of an employee benefits package at work is a great benefit.
Many companies pay for a fixed amount of life insurance for their employees and also allow employees to purchase more coverage at a low cost and with no medical exam. As a result, a significant number of Canadians have life insurance through their employer1.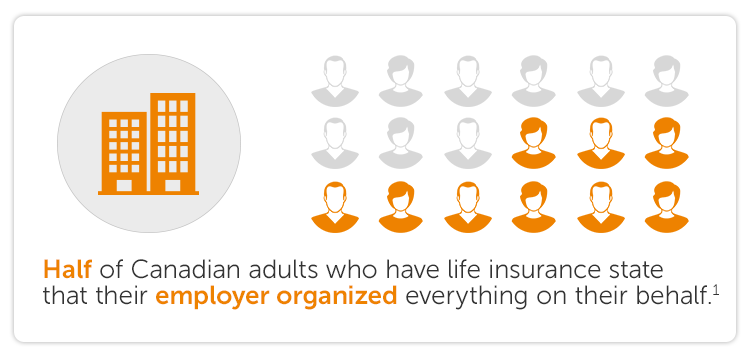 1Source: Life Insurance - Canada, September 2014, Mintel Group Ltd.
Getting covered through your employer can be convenient, inexpensive and you can usually get covered regardless of your medical history.
As an example, if you make $50,000 per year, your employer might provide $50,000 or $100,000 in coverage at little cost to you, and the amount paid for the life insurance coverage comes right off your pay cheque. You may never miss the money or worry about paying the bill, and you can obtain the coverage regardless of your medical history. However, relying solely on the life insurance you have through your employer can pose some potential problems.
Answer these five questions to find out if your employer-provided life insurance is good enough:
#1: Is your employer-provided life insurance coverage enough to take care of your family if you die while employed?
Most employer plans only offer a basic amount and type of life insurance coverage.
Employers who offer life insurance benefits typically offer coverage equivalent to one to two times the employee's salary. For example, if you make $50,000 per year your employer might provide $50,000 of coverage. Life insurance coverage of $50,000 is a good benefit to have, especially if you don't have to pay for it, but it's below what the average person needs.

Also, since employer plans tend to be a single plan with basic coverage, and are created to cover a group of employees, the one size fits all design may not meet your life insurance needs.
Many individuals need a tailored plan to meet all of their life insurance needs based on their financial circumstance and priorities, which may require individual life insurance in addition to employer-provided life insurance.
#2: If your job changes will you still have the life insurance?
Usually, when you stop working for a company, the employer stops paying for your life insurance coverage and it ends, unless you are able to convert it to an individual policy. The converted policy may be more expensive than if you had purchased an individual life insurance policy when you were younger, and in some cases, you can't convert your employer-provided life insurance coverage to an individual policy that is not linked to your employment.
You may not be worried about converting your employer-provided coverage because you're expecting life insurance coverage through your next employer, but what if the unexpected happens when you are between jobs? You never know when you may need coverage and having a gap in your life insurance coverage is a risky situation that is preventable.
If your next job doesn't offer any type of life insurance coverage, you may have to purchase an individual life insurance policy to replace your employer provided coverage. Depending on your age at the time of purchase, the cost may be significantly higher than if you had purchased individual insurance earlier.
#3: Will you still have life insurance coverage if you experience health issues?
Another problem arises if you leave your job because of a health problem. If you relied heavily upon your employer provided life insurance plan, and then suffer a medical condition that forces you to leave your job, you may lose your life insurance coverage for the reasons given in #2 above, just when your family needs it the most. At that point, it may be too late to purchase an affordable policy for the same amount of coverage or your health concerns could prevent you from obtaining the life insurance you need.
#4: Does your employer-provided life insurance plan provide coverage for your partner or spouse?
While your employer's benefits package may provide life insurance for your partner or spouse, in many cases the coverage is only minimal.
Many couples assume that the family will only suffer financial hardship if the primary breadwinner passes away. As a result, some people only insure their spouses through their employee benefit plan, which may not be sufficient. Stay at home spouses, or lower-earning spouses make a valuable financial contribution to the family, and their contribution should be factored into the amount of life insurance coverage your family needs.
#5: Does employer-provided life insurance provide the most affordable life insurance option?
Some employer provided life insurance plans allow employees to buy a certain amount of additional coverage. However, you may need to go through a medical review to qualify for the extra life insurance, and it could be more expensive than purchasing a separate, individual policy.
If you are healthy and a non-smoker, buying an individual life insurance policy outside of your work might be cheaper than buying additional coverage through your employer, and you can choose the plan that best fits your needs.
You may have an affordable life insurance plan now through your employer benefits, however what if rates go up or the plan is cancelled? If you choose to only have employer-provided life insurance, the amount of control you have over your life insurance plan is limited.
The Best of Both Worlds
Having both an individual life insurance policy and an employer-provided life insurance plan could be the best combination.
Your individual life insurance policy can allow you to have the amount of coverage that you truly need, to add any extras that you consider necessary for your personal circumstances, and to have lifelong coverage, regardless of your employment situation. And the younger you are when you purchase it, the cheaper the rates may be. Your employer life insurance plan can be seen as a supplement.
Making sure you are covered with life insurance for all times and under all circumstances is your best scenario. So next time you think, "I'm covered - I have life insurance at work." Maybe think again. That might not necessarily be the case. A life insurance advisor can help you determine what additional life insurance coverage you may need.
To help connect you with an insurance advisor, check out Find an Advisor.