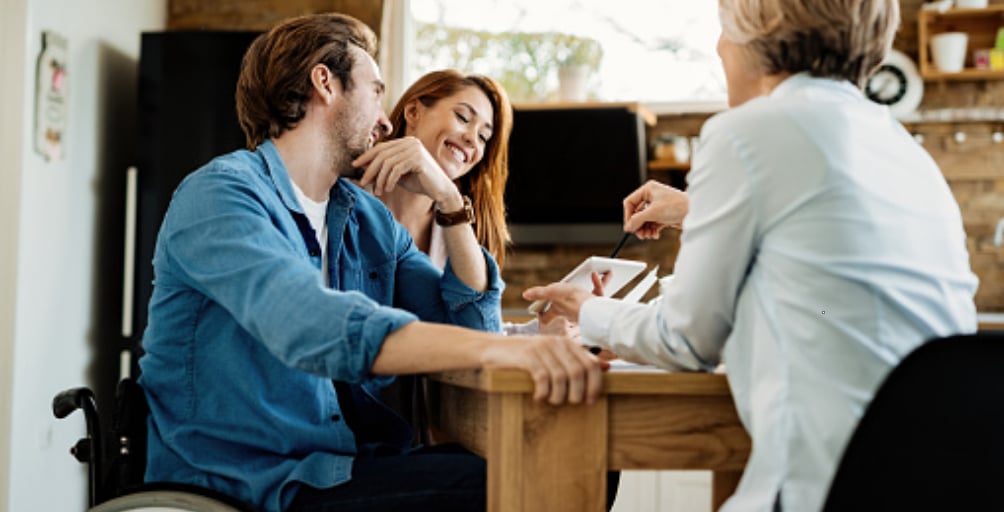 When looking at insuring the things that are most important to you and your family: your home, your health and your life are a few of the most obvious examples. Most people have at least one of those insured. While it may not be as obvious, your ability to meet your loan and other credit obligations is probably one of the most valuable things you possess. Do you have that insured?
Life insurance and disability insurance can work together
Owning life insurance can help provide peace of mind for your family in case you die unexpectedly and can no longer help meet your family's financial obligations such as a mortgage. But what if you were disabled and could not work for an extended period? Adding a disability insurance benefit to a new life insurance policy could be an effective way to build an additional layer of security into your financial plan. Empire Life Disability Credit Protect™ is available as an optional rider that you can bundle with a new life insurance plan from Empire Life. It provides a monthly benefit1 to help you make your monthly debt payments if you become disabled and cannot work.
Empire Life Disability Credit Protect can be a smart alternative to mortgage disability insurance from the bank
Getting disability insurance to cover payments on your mortgage and other loans is smart. Signing up for it with your mortgage lender…well, that may not be the best solution for you. Here are a few things you should know before you buy mortgage disability insurance from your lender:
The lender owns the policy and receives the benefit payments, not you.
If you change lenders, you may have to re-qualify to maintain your coverage.
The insurance may not cover non-mortgage debt obligations such as a car payment
With individually owned insurance, you stay in control because as the policy owner, you receive the monthly benefit and you decide how best to use it. And the coverage stays with you even if you change lenders. Let's look specifically at how individually-owned 25 year term life insurance with a disability credit protect rider compares with the insurance lenders offer when you take out a mortgage or loan.
Here's a question: "Why pay more?"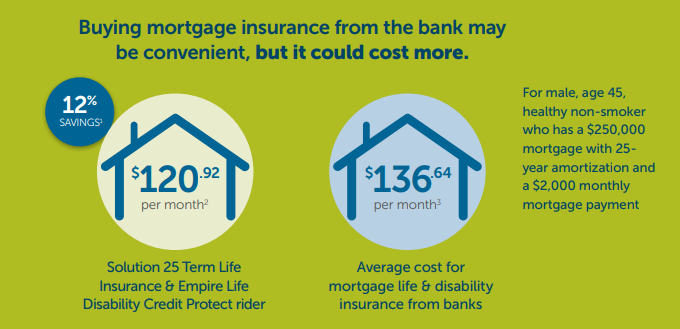 If the potential cost savings alone don't provide some food for thought, consider some of the other advantages of individually-owned life and disability insurance over so-called "mortgage insurance":
You decide how much coverage you need and that coverage does not decrease as you pay off your mortgage balance.
You choose your beneficiaries and they decide how the money is used.
Unlike with mortgage life insurance, you own the policy even when you change lenders.
The lender may tell you that it can be difficult to qualify for individually-owned life insurance, whereas all you need to do to sign up for their coverage is sign a single form. What they may not explain clearly is that when it comes time to make a claim, in most cases only then will the insurance company underwrite the claim to decide if you qualify for the policy. That's what is called "post-claim underwriting" and your claim could be denied even though you paid the premium every month along with your mortgage. That is not the kind of surprise anyone would want during what is likely a very difficult time.
The benefits of individually-owned life insurance
With an individually-owned life insurance policy, the underwriting is done during the buying process. Usually that involves answering a number of health questions and, in some cases, taking medical tests. That said, for someone healthy and 50 years old or under, Empire Life policies with a life insurance benefit of $1,000,000 or less generally do not require any medical tests or exams.
To apply for or the disability coverage, simply ask for the Empire Life Disability Credit Protect rider as an optional benefit when you are working with your advisor to apply for an Empire Life permanent or term life insurance coverage. You'll then be asked to choose a maximum monthly benefit amount and the benefit period that best suit your needs. To qualify, you have to have been working over 20 hours per week for at least 8 of the previous 12 months and be able to answer "no" a set of screening questions.
What all of this means is that, in the vast majority of cases with individually-owned life insurance, there are no unpleasant surprises when it comes time to make a claim. Since 2018, Empire Life has paid over 99.6% of all life insurance claims made on our policies5. And, in a recent survey of Empire Life customers who submitted a life insurance claim from January through July 2020, respondents rated their satisfaction with the claims process an 8.8 out of 10 on average6.
You can find out more about Empire Life Disability Credit Protect here. Before buying any insurance product, we recommend that you speak with your insurance advisor to find out if you qualify and to review your insurance needs.
The information in this document is for general information purposes only. Please seek professional advice before making any decision.
___
1 The monthly benefit amount and the number of months the benefit will be paid depends on the type of plan you select and your eligible debts, and will be determined upon approval of a claim.
2 Saving percentage is based on monthly premiums for Solution 25 term life insurance policy with a Empire Life Disability Credit Protect rider vs. an average of the monthly premiums charged by top 4 banks for mortgage life and disability insurance for the coverage and insured identified. Possible savings for other coverage amounts and insureds will vary. Premiums for mortgage life insurance and disability rider stay the same during the initial term of the mortgage, but the amount of life insurance coverage decreases as the mortgage balance decreases. Premiums for Solution 25 stay the same for the first 25 years of coverage but increase thereafter and premiums for the Empire Life Disability Credit Protect rider stay the same for life of the coverage. Solution 25 term life insurance with the Empire Life Disability Credit Protect rider and mortgage life insurance with a disability rider have different features and eligibility requirements.
3 Premiums shown are the monthly premiums as of November 16, 2020, for a 45-year-old male healthy non-smoker, for the initial term of a Solution 25 (coverage of $250,000) and for an Empire Life Disability Credit Protect rider with a maximum monthly disability benefit of $2,000 and a 24-month benefit period. At the end of the initial 25-year term, Solution 25 automatically renews and the premium increases annually.
4 The average cost is based on the average of the monthly premiums charged by Scotiabank ($141.50), BMO ($134.68), RBC ($141.87) and CIBC ($128.50) during the initial mortgage term for the same individuals as above for mortgage life insurance for $250,000 mortgage and for mortgage disability insurance covering $2,000/month mortgage payment as determined by Empire Life in a survey conducted September 21, 2020.
5 For life insurance claims submitted from January 2018 to November 2020. Empire Life data on file.
6 Survey conducted by Empire Life from August 11 to November 7, 2020.