Set fire to your hair, poke a stick at a grizzly bear…. These are certainly dumb ways to die but the Dumbest Way to Die is without Life Insurance.™ This is the theme of the latest consumer advertising campaign from Empire Life and it is a very different approach for an insurance company to use to encourage Canadians to start thinking about life insurance.
The campaign's unconventional approach is designed to engage and breakthrough to time challenged Canadians whose hectic lives often preclude thinking about, let alone acting on, life insurance. The campaign makes a subject that is normally difficult to talk about more approachable. "The goal of the campaign is get the 65% of Canadians* who have no life insurance or too little life insurance talking about the subject and for them to seek to learn more about why life insurance is important," says Mike Stocks, our VP of Insurance Marketing. Our new consumer website empirelife.ca was launched to help educate consumers About Life Insurance and help them to Find an Advisor to discuss their insurance needs and make an informed purchase decision.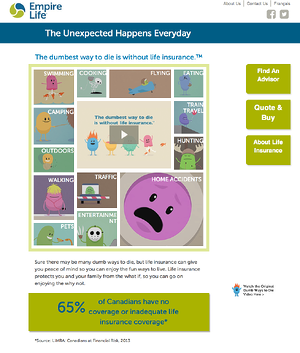 Lori Murphy from Brooklin, Ontario, was the very first insurance advisor to help a consumer who visited empirelife.ca complete a life insurance purchase in June. Lori chatted with us about how the process worked from an insurance advisor's perspective. She told us that it has been a wonderful experience to be part of a program that connects advisors with interested consumers. "I make sure to contact the client within an hour of receiving the request so that it is still fresh in their minds; they have all been very receptive. I do some pre-screening with them over the phone giving them the option of meeting and completing an application face to face or electronically over the phone using screen sharing," says Lori.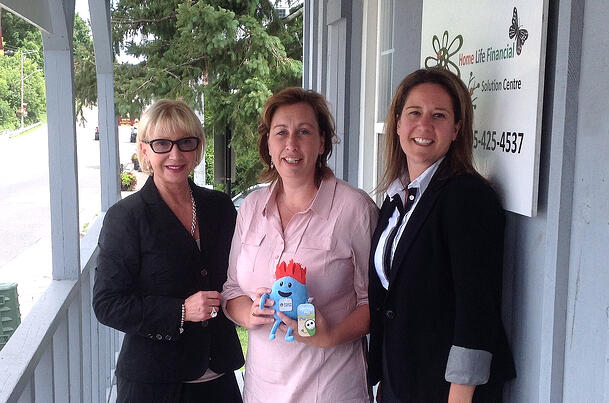 Pictured above: Ilana Garber - Empire Life, Lori Murphy (centre) holding Dumb Ways to Die Numpty toy, and Laura Madsen - Empire Life
How about you? Are you one of the 65% of Canadians who have no life insurance or too little life insurance? If so, why? Please let us know as we'd love to answer your questions and help connect you with an insurance advisor.
*Source: LIMRA: Canadians at Financial Risk, 2013