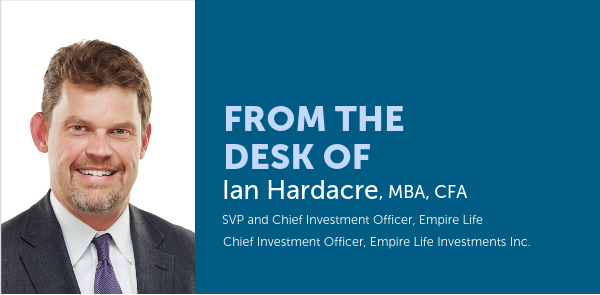 From the Desk of the CIO: Ian Hardacre shares his thoughts on the team's summer activities and the Empire Life Elite Equity Fund - one of Canada's longest running segregated funds.
As part of Empire Life's summer student program, the Investment Team recently welcomed three university students into our office for a four month work term. They come from the business and economics programs at Wilfrid Laurier University, University of Guelph and Middlebury College. This is a great opportunity for aspiring young minds to gain real world experience in a professional environment.
They will have the opportunity to attend company meetings, scrutinize financial statements, get a better understanding of the capital markets and get exposure to technical tools such as Bloomberg. They will also get a chance to present their stock/bond analysis to the entire Investment team.
Apart from the technical exposures of the overall investment management process comes something just as important - being immersed in a culture of professionalism and a relentless pursuit of excellence. This mindset is something difficult to teach in a classroom environment; it needs to be experienced in the real world. Seeing how the investment team prepare for and face the dynamic challenges thrown by the market is not something that can be read in a textbook.

The benefits of the program, however, are not a one way street. These young minds can bring a fresh new perspective to the team. We welcome their questions and challenges to our own views. The world is changing rapidly and having different perspectives is important in the decision making process. As I have stated before in this series, a contrarian view is an important factor in outperforming the market over the longer term and these fresh perspectives can help in shaping those views.

In addition, the benefits to the team can be longer term. Over the prior two summers we welcomed Jack Duff as part of the program. Jack worked with the Canadian Equity Team the first year and focused on U.S. equities the second year. With Jack completing his degree in business at Ryerson University this spring, I'm happy to announce that we've hired Jack on a full time basis. Jack will be working with Sr. Portfolio Manager, Ashley Misquitta, as an Investment Analyst focusing on U.S. equities. Again, it's not just the technical knowledge he's gained with us that we find valuable, but also his approach to the job being shaped to align with the team's culture.

Lastly, for those familiar with the daytime television drama that inspired the title of this article, you would know that it is one of the longest running television series of all time and still going strong. This feat, however, is shadowed by the history of the Empire Life Elite Equity Fund. Launched in 1969, the Fund will celebrate its 50th birthday towards the end of this year. As such, the Fund is one of Canada's longest running segregated funds according to data compiled by Morningstar Research Inc., with a cumulative return since inception1 of 8566% (or 9.4% annualized). Unlike the aforementioned television series, we strive to manage the Fund with much less drama. Today the fund sports a 4 Star Morningstar Rating2, which is a measure of risk adjusted returns relative to other funds in the same category. The Elite Equity Fund is also an important building block in other Empire Life Funds - it represents the equity components of our Income, Balanced, and Elite Balanced Funds. There will be more to come on this great anniversary, stay tuned.
---
1 December 1, 1969 to May 23, 2019 (Class A units)
2 © 2019 Morningstar Research Inc. All rights reserved. The information contained herein: (1) is proprietary to Morningstar and/or its content providers; (2) may not be copied or distributed; and (3) is not warranted to be accurate, complete, or timely. Neither Morningstar nor its content providers are responsible for any damages or losses arising from any use of this information. Past performance is no guarantee of future results.
Overall rating out of 428 Canadian Focused Equity funds as of April 30, 2019.
Morningstar Rating is for Class A shares only; other classes may have different performance characteristics.
This document includes forward-looking information that is based on the opinions and views of Empire Life Investments Inc. as of the date stated and is subject to change without notice. This information should not be considered a recommendation to buy or sell nor should they be relied upon as investment, tax or legal advice. Information contained in this report has been obtained from third party sources believed to be reliable, but accuracy cannot be guaranteed. Empire Life Investments Inc. and its affiliates do not warrant or make any representations regarding the use or the results of the information contained herein in terms of its correctness, accuracy, timeliness, reliability, or otherwise, and do not accept any responsibility for any loss or damage that results from its use.
Empire Life Investments Inc., a wholly owned-subsidiary of The Empire Life Insurance Company, is the Manager of Empire Life Mutual Funds and the Portfolio Manager of Empire Life Segregated Funds. The units of the Funds are available only in those jurisdictions where they may be lawfully offered for sale and therein only by persons permitted to sell such units. Commissions, trailing commissions, management fees and expenses all may be associated with mutual fund and segregated fund investments. Investments are not guaranteed, their values change frequently, and past performance may not be repeated. Any amount that is allocated to a Segregated Fund is invested at the risk of the contract owner and may increase or decrease in value. A description of the key features of the individual variable insurance contract is contained in the Information Folder for the product being considered. Segregated Fund policies are issued by The Empire Life Insurance Company.
® Registered trademark of The Empire Life Insurance Company.