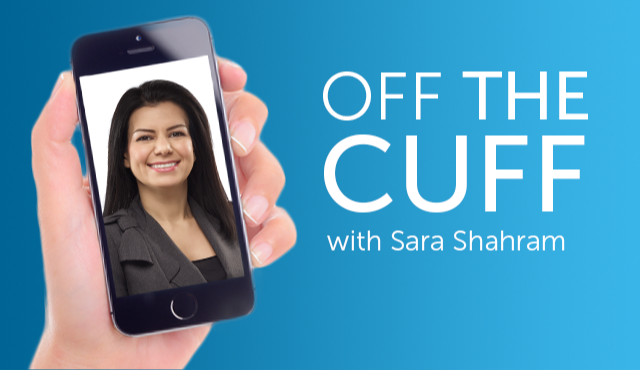 Sara Shahram discusses the relationship between COVID-19 and gold in this Off the Cuff video.
Transcript:
This is Sara Shahram, portfolio manager at Empire Life Investments. I hope that all of you are safe and staying well during these truly unusual times. As you've been hearing from many of my colleagues, we're doing our part to help flatten that curve by continuing to work from home.
I want to take this opportunity to talk to you about the recent moves in gold. Year to date, gold has rallied from USD1518/oz to roughly USD1725 today. This is an increase of 14% at a time when the TSX and the S&P have been down 12.5% and 8.5% respectively.
Today we're going to look at some of the factors that might explain the sharp outperformance in gold.
Gold is unique because it has both commodity-type and macro or currency-type characteristics. I'm going to briefly touch on the commodity-type characteristics and focus primarily on the macro aspect which tends to be a bigger driver of gold prices.
When looking at consumable commodities, we look at factors impacting physical supply as well as physical demand to determine whether the commodity will be in a deficit or a surplus. This is in an attempt to predict the future price of the commodity. When it comes to gold, this analysis alone often does not help in predicting the price of the metal. The reason is that investment demand is an increasingly significant component of gold demand. And this investment demand is driven by factors such as sentiment as well as macro and economic concerns.
The annual supply of gold is roughly 4800 tonnes or about 150 million ounces and consists of two primary sources – new mined production which is roughly 70% of supply and recycled or scrap gold which is the other 30%. The demand side consists of central banks, jewelry, technology and investment – which includes coins and bars as well as ETF buying.
With central bank buying being relatively stable over the past 10 years and technology being a small percentage of demand, the focus is often on jewelry and investment. Although I should note that central bank buying might be impacted by COVID-19 as countries – especially oil producing countries – look to preserve cash. But for the most part this demand has been consistent. Jewelry and investment demand tend to have different reactions to moves in the gold price. For example, as the price of gold rises – particularly in local currencies – we see less demand for jewelry as it becomes more expensive. However, sentiment and other factors which might cause an increase in gold prices often lead to higher investment demand.
Investment demand is often driven by macro factors. During times of economic and geopolitical uncertainty, the safe-haven nature of gold increases investment demand for the metal. Uncertain economic times usually involve government interventions to jumpstart the economy. This is often done through monetary and/or fiscal stimulus in the form of lower interest rates as well as printing more money and higher government debt levels. At extreme levels, these factors lead to a loss of confidence in fiat currencies and an increase in the fear of future inflation levels. This in turn increases the attractiveness of gold as a store of value.
Furthermore, since gold doesn't pay a dividend or interest, the lower the interest rate environment, the lower the opportunity cost of owning gold and the more attractive the metal is as an investment.
I also want to touch on the relationship between the price of gold and the US dollar. Historically there has an inverse relationship between the two – meaning that as the US dollar weakened, the price of gold increased. We've seen a breakdown in that relationship in more recent years on the back of flight to quality. This means that as investors sought out relative safety, they increased demand for both.
Now let's look at where we are today. COVID-19 has resulted in an unprecedented global move by central banks to essentially do "whatever it takes" to combat the economic impact of the disease. The monetary and fiscal support offered by governments has resulted, in many cases, in negative real rates and the ballooning of already high debt levels. As discussed before, these reduce confidence in fiat currencies and increase demand for gold as a store of value. In addition, negative interest rates combined with high equity valuations as well as dividend cuts announced by many companies in an effort to preserve cash, significantly reduce the opportunity cost of owning gold.
These factors have increased investment demand for gold. We have seen a surge in ETF demand which now sits at an all-time high of 99 million ounces. This demand has resulted in a continued increase in gold prices, despite a significant 40% year over year decline in jewelry demand in Q1.
While today's environment should continue to be supportive for gold, there is one factor which adds further complexity to predicting the price of gold and that is sentiment. More than any other commodity, gold is impacted by investor sentiment, which can turn fairly quickly, causing unanticipated volatility in the price.
We have increased our gold exposure in most funds over the past 6-months as a form insurance against the potential negative factors we discussed earlier. But even as we invest in gold, we continue to stay true to our investment philosophy of owning companies with strong competitive positions and strong management teams that have a solid track record of capital allocation.
One such example in many of our portfolios is Agnico Eagle. With its CEO at the helm since 1998, Agnico has been one of the best and most consistent performing gold equities in the sector. Agnico's portfolio consists of assets in safe jurisdictions such as Canada, Mexico and Finland with some of the best cost structures in the industry. These factors along with its disciplined capital allocation both organic and inorganically results in Agnico having one of the best long-term free cash flow and dividend yield profiles. We were able to add Agnico to many of our funds at an attractive valuation, after an uncharacteristic operational hiccup caused a significant drop in its share price. After numerous conversations with the management team, we gained comfort that this was a one-off occurrence and that management had a solid plan in place to address the issues.
Thank you very much for you time. I hope you found this Off the Cuff informative. Until next time, please stay safe.
---
Segregated Fund contracts are issued by The Empire Life Insurance Company ("Empire Life"). A description of the key features of the individual variable insurance contract is contained in the Information Folder for the product being considered. Any amount that is allocated to a segregated fund is invested at the risk of the contract owner and may increase or decrease in value. Past performance is no guarantee of future performance. All returns are calculated after taking expenses, management and administration fees into account.
This document includes forward-looking information that is based on the opinions and views of Empire Life Investments Inc. as of the date stated and is subject to change without notice. This information should not be considered a recommendation to buy or sell nor should it be relied upon as investment, tax or legal advice. Information contained in this report has been obtained from third party sources believed to be reliable, but accuracy cannot be guaranteed. Empire Life Investments Inc. and its affiliates do not warrant or make any representations regarding the use or the results of the information contained herein in terms of its correctness, accuracy, timeliness, reliability, or otherwise, and does not accept any responsibility for any loss or damage that results from its use. Commissions, trailing commissions, management fees and expenses all may be associated with mutual fund investments. Please read the prospectus before investing. Mutual funds are not guaranteed, their values change frequently and past performance may not be repeated.
Empire Life Investments Inc. is the Manager of the Empire Life Emblem Portfolios and Empire Life Mutual Funds (the "Portfolios" or "Funds"). The units of the Portfolios and Funds are available only in those jurisdictions where they may be lawfully offered for sale and therein only by persons permitted to sell such units.
May 25, 2020